Okay, so I don't know how Nancy keeps getting me to do these stupid things, but here are the answers to the survey for me:
Age you will be on next birthday:
34
Not sure what this means - I'm a Cold War relic?
Mother's middle name:
Mary
I'm sure if my mother was American, she'd be all for the stars and stripes bikini accented by the aluminum foil pashmina.
Favorite colour:
Navy Blue
Yowsa! This was the best result of the lot. I LOVE NAVY BLUE! Oh thank you, gods of Google!
Bad habit:
alcohol
Man, is that what my brain looked like this morning? No wonder I feel so blue the morning after!
Favourite fruit: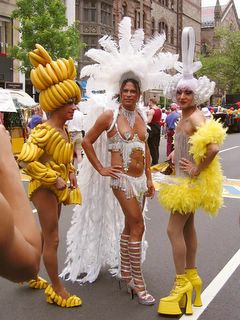 Bananas
I love the bananas! Wearing them is the only way to use 'em - other than the 'other' use, of course.
Favourite animal:
Cat
Why are cat's asses so freakin' hilarious? Chocolate stars for everyone!
Last name of favourite teacher:
Rae
Nan Rae was an old-school English teacher - any teacher in the Canadian education system today is a hero by my standards.
Name of a pet:
Buffy
Sarah Michelle Gellar? Not much of a surprise when Googling 'Buffy'.
First car:
1981 GMC truck
What an old guzzler beast that thing was. Survived my adolescence in that thing though. My dad still drives the damn thing today!
Your first name:
Reid
Richard Reid --- great. I don't like my name anymore. It was a toss up between Richard Reid and Tara Reid. The terrorist won.
Your last name:
Dalgleish
Man, I've been discovering my last name is a semi-popular place name esp. in former British colonies. And Antarctica, apparently.
Best friend's name: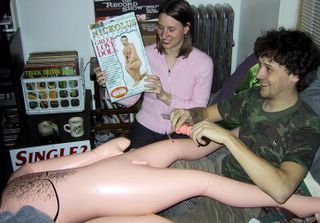 Ryan
This picture was so disturbing I had to get it. It does not reflect on either Ryan or myself. Like, who would want this moment immortalized on film? Yeesh.
Name of significant other:
Joe Gallant
Joe Gallant and the Illuminati - "Blues for Allah Project". Illuminati and Allah all in the same reference. Very telling of my bf's influence!!!
Your birth month:
December
Saddam Hussein, eh? I thought this was so bizarre a reference to December (it was the month he was captured, apparently).
Your home town:
Grandview
A pic of the Grand Canyon for Grandview - big surprise. Apparently that's what the railroaders said when they were building the track through what was going to become my hometown.
Where I live now:
Calgary
I have such a love/hate relationship with this 'burg.
Favourite band:
Chemical Brothers
I LOVE Tom and Ed!
Favourite thing to do:
bike racing
Was there any doubt? A homage to Super Mario is due.
Your full name:
I actually found a logo to the Australian Capital Territory Sporting body returned when Google Imaging my name
here
. How strange...